The Art of Fabricating finest quality of Washers was mastered and practiced by Shri. Anand Prakash Narula in year 1985 and since then he has been supplying the quality parts videly to the Automotive Industry (Four Wheelers, Two Wheelers, Earth Moving Equipments, and all other sealing applications), Hardware Industry, Consumer durables.

Gaskets used in various application from the DIN 7603 family being the core product.
The legacy was then carried along with Shri. Anand Prakash Narula, by his two Sons Mr. Shitz Narula & Mr. Sidharth Narula, allforming strong pillar to the organization backed up by a dedicated & skilled workforce.
All the processes involved in manufacturing i.e. Blanking Punching, De Burring, Vibro polishing, Bright Annealing, Vision Sorting, Tooling department, is done in house under one roof through fully defined self executing systems.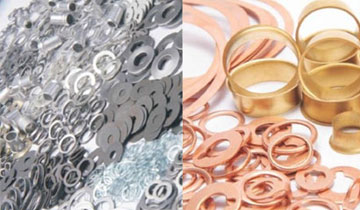 Precision Fabrication
Metallic washer and spacers from Neel Kamal are guaranteed flat, since they are produced from tooling, which are designed with "elect upwards" © technology, which means each and every washer, spacer, gasket produced are "//True Flat//" ©™.

At Neelkamal we produce shims spacers for the Fuel Injection Systems, where flatness is maintained within 8 Microns.

For Spark Plugs we produce Internal Gaskets where flatness is maintained within 5 Micron.

Cylinder Head Shims are as flat as 3 Microns.

Remember if the washers, spacers and gaskets you buy are not "//TrueFlat//"©™ then your automobile is at high risk.